About The Louisville Fire Department
Contents
The first fire brigade in Louisville was initiated in 1780 in order to meet the demands of a growing population. Records provide no evidence of major blazes at this time, nevertheless, our ever-practical ancestors realized that threat of fires goes hand in hand with a City's development, and these same practical people were ever prepared to meet the challenge. Citizen fire brigades and competing volunteer fire companies persisted for about 80 years, until urban development necessitated the creation of a professional, municipal fire department.
On the evening of May 27, 1858, the General Council organized the Steam Engine Fire Department of Louisville, to be effective June 1, 1858. The Division of Fire consisted of three fire stations. Louisville's First Fire Chief (Shelby Johnson) with the aid of 65 men, 23 horses and 5 steam engines, provided fire protection for the 70,000 inhabitants of the city.
Paid city fire departments were novelties, in those days. Louisville was the 5th largest American city in 1850, and only 2 professional fire departments existed in this country; indeed, most of today's large cities were either wilderness or tiny farming communities. None of the original 3 LFD houses remain. Although some older, but no longer utilized firehouses still stand, Engine 7 is the oldest station in continuous use.
For a detailed history of the division, click here.
The LFD's roughly 600 members are divided into various bureaus and three platoon-shifts. The bureaus include Administrative services, Planning, Risk Management and Safety, Fire Prevention, Communications and Support Services, Training, Arson and Investigation, the Automotive Service Facility and Suppression. The former LFD Med Bureau merged with Jefferson County EMS early in 2005 to create Louisville Metro EMS. Suppression, of course, is the bureau that actually carries out firefighting operations. During a year the Louisville Fire Department will responded to around 30,000 calls.
The platoon system of shifts is similar to what is found in most city fire departments. Three shifts of firefighters rotate working 24 hours on-duty, followed by 48 hours off. This amounts to an average work week of 56 hours. All members assigned to one shift are said to be on the same platoon. Prior to 1964, Louisville firefighters worked 24 on / 24 off, (average 84 hours). Louisville firefighters do not carry pagers or respond to calls from home, (except for extreme cases), as is the case in many rural areas that utilize volunteer firefighters. Only twice in the past year have off-duty firefighters been called in to man auxiliary apparatus.
Because firefighters live in their firehouses for 24 hours at a time, they have beds, kitchens, recreation areas and most other amenities that are found at home. They also develop strong relationships in the neighborhoods they work in. LFD houses are relatively open to neighbors, and the firefighters are often seen out running, walking or relaxing on the front ramp bench, as well as routinely taking part in various community events.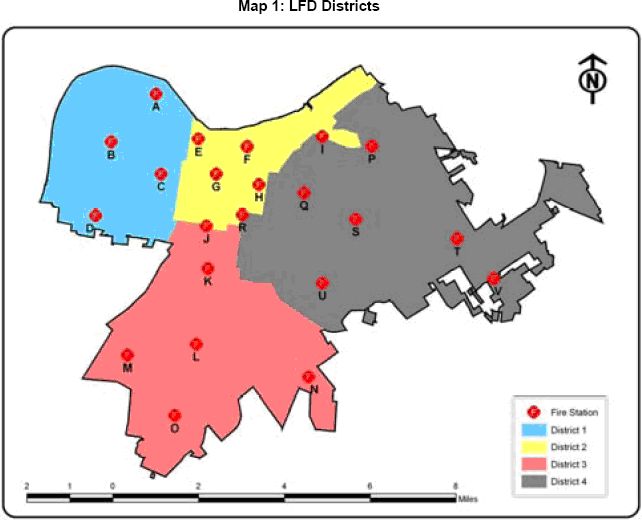 There are currently four districts within the City, each having a District Chief that oversees operations within his/her district. Fire suppression bureau personnel man 28 regular fire companies. All of the suppression companies have FF/EMT's or FF/Paramedics assigned to them. They respond to medical emergencies in support of the Louisville Metro EMS ambulance crews, often arriving prior to the ambulance as first responders. These members are well trained and prior to 2005, most were assigned to city ambulances for eight or twelve hours of each shift. Although firefighters are no longer assigned to ambulances in Louisville, they often ride along to assist LMEMS enroute to the hospital, when needed. The experience gained while working on urban, emergency ambulances makes Louisville firefighters more effective first responders to the medical incidents that take place in their first-alarm areas.
Training
The beginnings of the Louisville Fire Department's respected training bureau has it's roots in the FDNY (New York), and the vision of Chief Timothy Lehan. Although Louisville's professional fire service preceded New York's by 7 years, (New York's first paid department began in 1865 and some volunteers remained until 1928), their ancient volunteer tradition and massive staff gave them the benefit of a firefighter training program at an early date. Lehan had visited New York City, and attended seven weeks of training himself. Following his return he remarked: "A man, before being appointed to the New York Fire Department, is forced to attend the school for firemen. There they teach him the tricks of the trade, how to hoist ladders, stretch hose, manage life nets, and in short, everything a fireman needs to know. In Louisville, our firemen are forced to acquire this knowledge by experience. And, of course, being new, they are not as good at the work as those who have had the benefit of experience."
Chief Lehan decisively began Louisville's first training school in 1919, and the first twenty-three graduates were recorded on May 3, 1920. A small frame tower was constructed adjacent to Engine Company Number 17 at 1824 West Garland Avenue, (now Squrt 17), its purpose to allow training under simulated conditions. Recruits lived in the small rooms upstairs, attended lessons and classes and participated in regular fire department routines while in training. The term "newboy" first became the popular title for the young firemen, as opposed to "probie" or "rookie" which are more common in other departments.
In 1957 Drill School recieved it's own facility, a five story brick building, with a classroom on the first floor. It was located at Algonquin Parkway & Gibson Lane. It was not until 1988 that our current Training Academy was built at 15th and Hill Street, with a cost of 2.5 million dollars. This facility includes classrooms, offices, a library, a studio for producing closed-circuit training programs, locker-rooms for the newboys and their instructors, a drivers training course, an area equipped to simulate various vehicle, railcar and structural collapse incidents, and of course, the Fire Environment Building, commonly called The Tower.
The Tower is a 70' tall concrete building used in hose and ladder evolutions and various other physical drills, including live burns. The physical portion of the LFD firefighter application also takes place there. The test begins by carrying a 70 lbs bundle of hose up and back down the 14 flights of stairs inside the Tower, and continues with a series of obstacles and tasks, (most of which involve running up stairs and carrying heavy loads).
"The Plumb Lady", a steel ladder mounted to the side of the tower, is the object of dread for many recruits. They all become acquainted with her while the Drill Instructor shouts "Up and over, newboy!" The recruits climb up and over the opposite side, only to run back around and do it again. By the end of the 26 week long fire academy, the new recruits will have grown in strength and endurance. The new graduates will be nationally registered EMTs and Hazardous Materials Technicians. They'll have been trained in Louisville Fire Department procedures and equipment and they'll be certified to the standards of Firefighter I. Over the course of their probationary year on the streets, they'll attain Firefighter II certification.

The recruitment information below is being circulated on the web for the informational benefit of those considering a rewarding career with the LFD.
Become a Louisville Firefighter

The Louisville Division of Fire has a tradition of service to the community dating back to 1858. Applications will be accepted only from June 18 - August 24, giving all interested candidates an opportunity to become part of our historic and distinguished brotherhood. Typically, the Division of Fire hires only once a year. There is a high standard of moral character that must be met in order to become a uniformed public safety official. Firefighter Candidates can expect a challenging career with stringent physical fitness requirements and excellent benefits.


CAREER BENEFITS

- Starting Pay 37,263.62 annually with an additional $3100.00 annually after completion of training

- There is a self determined path to advancement and the opportunity to grow with and eventually take a leadership role in the organization

- Pension Plan, with 20 year retirement

- 403b investment options

- Tuition re-imbursement program for accredited institutions

- Flexible schedule 24hrs on duty / 48hrs off duty

The Louisville Division of Fire is an equal opportunity employer

The Human Resources Department of Louisville Metro Government facilitates the hiring process for the Louisville Division of Fire. Interested candidates should click here to learn more and apply. Feel free to message Engine 7 with any questions.
Firehouses

First District
Truck 4 / Engine 22 / Car 51
3228 Riverpark Dr.
Truck 1 / Engine 2
1135 W. Jefferson St.
Engine 6
2425 Portland Ave.
Squrt 17
1824 Garland Ave.
Quint 5
3401 Bohn Ave.
Second District
Truck 2 / Engine 5 / Car 52
235 E. Jefferson St.
Engine 7
821 S. 6th St.
Squrt 9
617 E. Breckinridge St.
Engine 15
1328 S. Preston St.
Truck 3 / Engine 16
1500 S. 6th St.
Telesqurt 21
1761 Frankfort Ave.
Automotive Service Facilty (ASF)
1510 S. 6th St.
Third District
Truck 8 / Engine 10 / Car 53
501 Ashland Ave.
Engine 1
1100 Grade Ln.
Quint 9
3511 Fincastle Rd.
Engine 12

4535 Manslick Rd.
Engine 18
2600 S. 4th St.
Telesqurt 23
706 Kenwood Dr.
Fourth District

Truck 7 / Engine 11 / Car 54
1025 Rubel Ave.
Quint 10
3401 Dutchmans Ln.
Engine 8
2900 Hikes Ln.
Quad 6
2620 Frankfort Ave.
Engine 20
1735 Bardstown Rd.
We have 18 engine companies and ten truck companies, three of which are quints and one is a quad. In addition to the 28 fire companies that each staff a fire apparatus 24 / 7, numerous auxiliary, command, service and specialty unit vehicles are included in the LFD's fleet.
The four district chiefs respond to incidents with their adjuncts in Ford Expeditions. We use the term "buggy" to refer to this vehicle, a holdover from the days when command staff literally responded in horse-drawn buggies. Likewise, the aide is often called the "buggy driver", (or occasionally a more demeaning form of that term). The Assistant Chiefs of Operations, the bureau heads and the Chief of the Division also have buggies, (usually these are cars, not Expeditions). Of these, only the Chief of the Division has an aide assigned to him. The chief's aid is also the Public Information Officer, (PIO), and he uses a division car of his own when responding to incidents without the Chief.
LFD Service trucks and vans can often be seen in Louisville. These vehicles are used to drop off supplies or equipment, pickup paperwork and division mail, transport firefighters to detail locations, relieve a crew at an incident scene, stand-by at a down powerline or other hazard, or even sometimes for firewatch. Several service trucks are kept in each district at specific houses.
Specialty Equipment
In addition to Engine 1's pumper, a Haz-Mat van (HM-1) is also manned 24 / 7 as part of the company. It contains an assortment of mitigation and isolation equipment, as well as computer and research materials, and it rolls with the pumper on every run. Also at Engine 1 is the CO2 Truck (Car 37). The CO2 Truck is basically a converted, flatbed Chevy Pickup carrying 2 rows of cascade style CO2 tanks connected through a series of valves and equipped with two nozzles on long hose reels. This rarely used piece of equipment makes it possible to extinguish fires in underground electrical vaults by flooding them with carbon dioxide.
Engine 5 is also assigned a Haz-Mat van (HM-5) similar to Engine 1's. Since Engine 5 is a secondary Haz-Mat company, HM-5 is only manned upon being dispatched to a hazardous materials incident. Most runs necessitate the engine only.
Similarly, Rescue 11, Engine 11's trench / structural collapse rescue unit, only leaves quarters on rescue incidents or during training. Engine 11 is usually a one-piece company. In recent months, Engine 11 and Truck 7's apparatus, rescue equipment and personnel have been greatly utilized in training Metro Louisville's new MSARS Team, (Metro Search And Rescue). MSARS is a pool of firefighters from Louisville as well as surrounding suburban areas that are trained to effect rescues and handle situations involving collapsed, irregular, unstable or confined spaces.
Engine 12 is the city's newest Haz-Mat pumper. All of it's equipment is carried on the engine, so it is not assigned a Haz-Mat van. At Engine 12's quarters are kept two other special pieces of equipment, however. The Brush Truck (Car 540) is an old, army-style, off-road jeep that has a 250 gallon booster tank and a single-stage centrifugal pump. The pump runs separately from Car 540's engine and has its own fuel tank. It has a booster reel, an 1 ½" discharge and a 3" intake. The Brush Truck is used for fires in undeveloped areas, (such as parts of Iroquois Park ), that regular fire apparatus cannot access. The Rehab Bus (Car 538) is also quartered at Engine 12. The Rehab Bus is a vehicle similar to a large ambulance, except that the patient compartment in the back is more open with seats all around. It carries a generator for powering heaters, coffee pots and a heavy-duty air-conditioner, and a mist fan similar to those used on the sidelines of NFL games. Car 538's purpose is to provide a place out of the elements for firefighters to rehabilitate in after large incidents. Ice, water and Gatorade are carried in the summer. Coffee, hot chocolate and instant soup are also carried in the winter.
The Divers and Water Rescue/Recovery Team of Engine 2 are responsible for the operation of Louisville 1, a fire boat that is moored at the Downtown Wharf. Two smaller rescue boats (Louisville 2 and 3) are kept at Engine 2's quarters on trailers attached to Division service trucks. Also assigned to Engine 2 is a van that contains the drysuits and SCUBA equipment used on dive rescues and searches.
Truck 1
Truck 3
Truck 4
Engine 6
Engine 7
Engine 10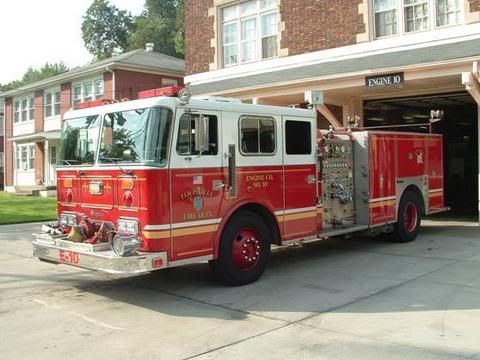 Squrt 17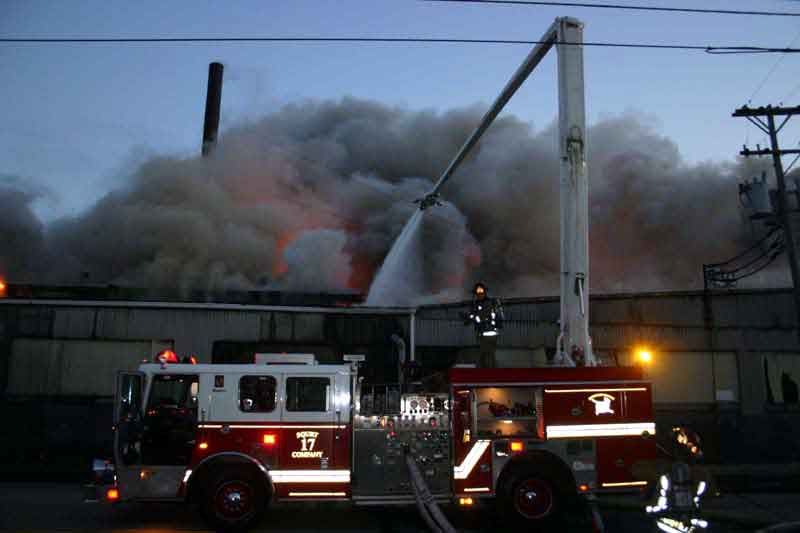 Engine 18
Engine 22
The Rope/High-Angle Rescue Team is operated by Truck 1, at 12th and Jefferson Street. Engine 2, quartered at the same house operates the three boats used by our Divers and Water Rescue/Recovery Team. Engine 1, on Grade Lane near Louisville International Airport, and Engine 5 at Floyd and Jeff and Engine 12 at Manslick and Anna are Hazardous Materials companies. All Louisville firefighters are trained to Haz-Mat operations level, but the Haz-Mat companies carry more specialized equipment and are manned by Haz-Mat technicians. The Trench Rescue/Structural Collapse Team is at Engine 11, on Winter and Rubel. Many Louisville Firefighters assigned to other companies belong to the Metro Search and Rescue (MSARS) Team, along with members of various suburban departments that surround Louisville.
The Shop
The Automotive Service Facility (ASF), or The Shop, located behind Truck 3 / Engine 16, is technically not a specialty unit of the Fire Suppression Bureau of the LFD. It is, however, an irreplaceable element of the Louisville Fire Department that is primarily responsible for the excellent condition of our fleet. The ASF is a large 9-bay maintenance facility equipped with heavy equipment lifts and specialized tools used in maintaining all of our vehicles. Thanks to our routine checks, strict preventative maintenance schedule and thorough ASE certified mechanics, our fire apparatus have a much longer useful life than is typical. Saws, fans, SCBAs and other tools are all serviced and repaired at The Shop.
In addition to normal maintenance, shop-personnel respond to all multiple-alarm fires, or upon request at other incidents. Prior to the purchase of new apparatus, the ASF completely specs out every aspect of the equipment. Often, trips to Detroit and meetings with Seagrave are necessary to ensure all desired standards are met. Visitors from larger fire departments and fire apparatus manufacturers are often shocked by magnitude of the repairs and fabrication performed by ASF employees.
Fire Communications Bureau (FCB)
Our call takers and dispatchers in the Fire Communications Bureau work on the same platoon-shift schedule as Suppression personnel, only they are scheduled times to rest and eat. Prior to the formation of the new MetroSafe dispatch system, the FCB handled all Fire Department and EMS dispatching in Louisville. Police and Jefferson County services were separate. The supposed goal of MetroSafe was to combine all emergency dispatching into one location, improving efficiency. To date, mismanagement and technical problems have decreased speed and accuracy, and the promised benefits have yet to be seen. Medical and fire dispatching is a job that requires training and a sense of precision, and it is a skill that one improves at with experience. It can be a very different job than police call taking / dispatching, and compelling those experienced at one discipline to perform another can lead to bad consequences. Numerous problems have also arisen from the new computer aided dispatch (CAD) system. The pride and professionalism of our dispatchers continues to show through, even with these and other difficulties. FCB members continue to endure losses in pay and benefits, tampering with duties and schedules and not-so-subtle attempts by the administration to push them out of IAFF Local 345. This difficult time makes a dispatchers stressful job even harder, but with the support of their union brothers and sisters, we know they'll succeed in improving our current communications problems, and in standing up to an irresponsible administration.
Arson Investigation
The Arson Bureau, or Louisville Metro Arson Squad, is composed of deputized officers who have graduated from both the police academy and the Louisville Fire Department drill school. Their job is to investigate all suspicious fires and apprehend the perpetrators responsible for arsons.
LFD members from the ranks of private to major are represented by the Louisville Professional Firefighters IAFF Local 345. Fire department mechanics at the Shop, call takers and dispatchers at the FCB, Fire Prevention employees and arson investigators are also Local 345 members. The IAFF, (International Association of Fire Fighters), is the world's largest firefighter union. The 274,000 members of the IAFF are America's full-time professional fire fighters and paramedics, who protect the lives and property of 85 percent of the nation's population.
LFD rank and file organized with the IAFF in 1940 after several unsuccessful attempts beginning ten years earlier. In 1932 members attempted to unionize to negotiate better pay and safer conditions, however City authorities threatened to fire any man joining a union and did eliminate many suspected union leaders. At that time, the men were exploited through political domination with no pensions, poor salaries and a 115 hour work week. During the 1937 flood, the underappreciated and understaffed Louisville Fire Department fought several multiple-alarm fires, paired up and rescued refugees in rowboats, sealed off under-water fuel tanks (which were creating great, flammable oil slicks), and assisted with the work associated with the outbreaks that followed the receding waters. A grateful public responded by supporting large pay-raises, (designed to attract recruits), and other benefits, including the right to organize.
Unfortunately, firefighters have very little leverage in negotiation. If we strike, as other unions do, citizens will certainly suffer and die. Therefore, firemen are subject to the whims of the politicians that hold the purse strings to our paychecks. Currently, the LFD is going on two years without a contract. Many other unions stop working if a contract expires before a new one is settled on. We simply work under the expired one indefinitely. Cost of living increases 3-4% / year, and insurance costs go up annually, as well. Most firemen in Louisville haven't had a raise since 2004, and most have resigned to the probability that they won't make any more in 2008. IAFF Local 345, with the help of a supportive public, will continue to pressure the Mayor to begin negotiating in good faith with Louisville's firefighters. By exercising political change whenever called for, Local 345 hopes to send a message to every local politician that its members' wellbeing and success is paramount.
Louisville Professional Firefighters, Local 345